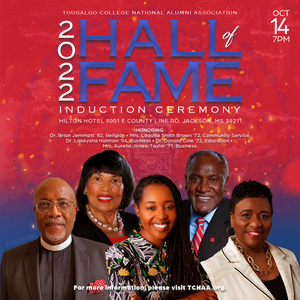 Tougaloo College Alumni Hall of Fame 2022
y'all tired of me saying it yet? October is coming and I'm so excited. There's one event in particular that I'm particularly excited about, because who's being honored- Dr. Lakeysha Hallmon!
Dr. Hallmon is a social entrepreneur, curator, speaker, passionate educator, Mississippi native and graduate of Tougaloo College. Dr. Key is committed to revitalizing and unifying her community in "The A" and she's working on doing the thing in "The Sipp!" She founded The Village Market (TVM), which is an all-black marketplace in Atlanta that celebrates the arts, change makers, entrepreneurs, plant-based advocates and educators by curating community led events. Hopefully, we'll be able to partner with her for something similar, such as the MS Black Business Expo which is organized by MSBlackPages.com.
To date, Dr. Key and TVM have showcased and trained hundreds of vetted Black-owned businesses leading those businesses to average $3-6k in sales within 5 hours of selling their products or services. Dr. Key truly believes that "If we act in oneness and in the spirit of togetherness not only can we survive, we can thrive."
Congratulations to Dr. Key and all of the 2022 Tougaloo College Hall of Fame Honorees!
Dr. Donald Cole '72, Education
Dr. Lakeysha Hallmon '04, Business
Dr. Brian Jemmott '82, Religion
Mrs. Laquita Smith Brown '72, Community Service
Mrs. Aurelia Jones-Taylor '71, Business
2022 Tougaloo College National Alumni Association
Hall of Fame Induction Ceremony
October 14, at 7:00 pm
Hilton Hotel 1001 E County Line Road Jackson, MS 39211
---