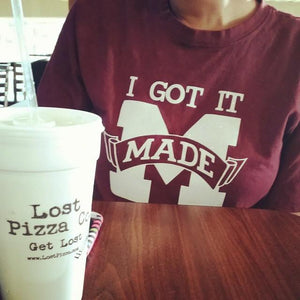 Pizza and T-shirts
When it comes to pizza, the I Got It MADE Family (Chuck, Shalon, McRae and Jaxon) will never shy away from an opportunity to eat good pizza. Before we moved to the MS Coast, we were frequent visitors to the Jackson restaurants, Sal and Mookie's New York Pizza and Ice Cream Joint (shout out to Jeff and Dan for the "Do The Right Thing" reference) and Lost Pizza Co.
With I Got It MADE leading the way, the Mississippi Gulf Coast now has all three! I Got It MADE Clothing (Gulfport), Sal and Mookie's (Biloxi) and a Lost Pizza (Ocean Springs).  We plan to get by Lost Pizza very soon and we encourage you to do the same. We hope that you follow our lead and eat local as often as you can.
We can't take too much credit for pizza on the coast, because Uncle Joe's Pizza and Wings and Tony's Brick Over Pizza were already here. Honestly, we can't take any credit for the other two either. Take our word for it; they all have great pizza. And we make great t-shirts. 
---