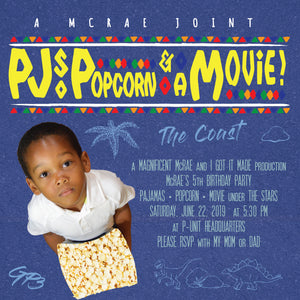 Magnificent McRae Turns 5
Our oldest son, George McRae Patterson III, turned five recently and we decided to do something a bit different with his birthday invitation.  He loves getting the "Because of Them We Can Box" every month.  Because of Them We Can® was started by Eunique Jones Gibson in February 2013 as a 28-day photo campaign where children appeared as iconic Black history figures of the past and present.  What's the box you ask?  The
Because of Them We Can (BOTWC) Box
is the first Black history and excellence subscription box for kids. Each month kids can use the contents of the box to learn about trailblazers, organizations or movements that paved the way!  So, got our "Because of Them We Can" on and paid homage to Spike Lee's "Do The Right Thing."  How'd we do?
On June 30, Spike Lee will be hosting a block party for the 30th anniversary of his 1989 film.  McRae's Uncle Josh will be there and hopefully, he can show this to Spike.  If you're on the internet, check out Magnificent McRae's Instagram (
@magnificentmcrae
) and then leave some feedback on the design. If you got time, look around 
www.igoitmade.us
 and shop with us.
---