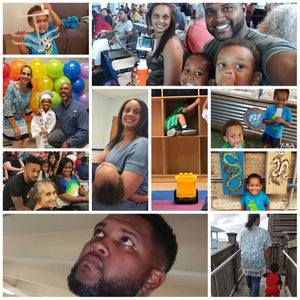 June 19, Juneteenth and Genius Level Talent
Yesterday, and quite often I feel a range of emotions. I want to cry, laugh, scream, set owt a march, sing, weep, moan… everything. I guess that's life, huh? Yesterday was really special, it was the anniversary of me becoming a father. McRae, my eldest son, celebrated his fifth birthday on June 19. He's so smart (with a smart mouth), sweet, creative and funny. I can't leave Jaxon out. Lawd, Jax is only a year old and he's talking more, running really fast and definitely bout that action. Like for real-for real bout that action. Jax will give you "dem hands" on command. Shalon, my God thank you for Shalon. I feel loved by Shalon even when she doesn't like me. I'm very lucky to have her as my wife and life partner.
Yesterday, was also Juneteenth. I thank God for knowledge of self and knowledge of the accomplishments of my ancestors throughout the diaspora. On June 19, I found myself working at a place that bears the name of a Confederate general after the orange person in the oval prevented me and my family from visiting Cuba.
Yesterday and every day I miss my parents, Jannie and George Sr. I miss my grandparents, James and Viola, Dan and Queen, and now Helen (Josh's Granny). McRae tells me that he misses his PawPaw and his Granny; this breaks my heart every time I hear it. I thank God my boys have a MiMi, a Papi, a Ninny and a host uncles and Tee-tees that love them dearly.
Yesterday, I also found myself missing "My Tougaloo." I miss walking across "the yard" and the feeling it gave me. I don't get that feeling where I now work. Because of Tougaloo, I have some awesome friends that are so talented and ambitious and I get that "Tougaloo Feeling" when I talk with them. I'm excited that some of us are working together to build and create entities, institutions, and spaces where people like us feel safe, protected, loved and respected. Because of where I work, there are times where I'm uncertain about my safety or protection. There's no place like the Tougaloo I knew, I hope current Tougaloo and other HBCUs are able to create that feeling and that space for current and incoming students.
Lately, I've been asking folks "what's your genius level talent?" Some know some don't. Some are on a journey of development and exploration. I think that's where I am right now. I'm on a journey of growth and evaluation, seeking clarity from The Creator regarding my genius level talent and the plan God has for my life. I know that my current situation is temporary. There is something greater ahead for my family, my friends and me! I will soon have clarity on how my genius level talent will "make room for me" and the plan to put everything in motion.
I don't know why I wrote this and I know that it's all over the place, but I feel better and blessed after writing, re-writing, and reading. I hope you found something that can help you get through the day if you read this far. I did.
---
1 comment