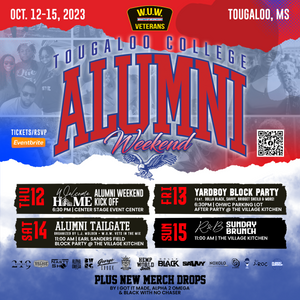 Groovin' Back to The Loo: TC Alumni Weekend 2023
What's up my beautifully, groovy people! As the leaves start shimmying to the ground like a neo Nupe and hopefully the crisp autumn air wraps around us like the skull cap of a baldheld Que, it's time to get ready for a truly legendary event. Get your yard shoes on because Tougaloo College Alumni Weekend 2023 is coming at you like a Mannie Fresh beat you can't resist. I'm here to give you the lowdown on what's sure to be a weekend of epic proportions.
A Soulful Legacy
Back in the day, Tougaloo College rose up like a phoenix, embodying resilience, excellence, and a thirst for knowledge. It's been over a century of cultivating minds, igniting leaders, and building a tight-knit community that spans generations. We, the alumni, are the torchbearers of this soulful legacy, and during Alumni Weekend, we're turning up the volume on it.
A Weekend to Remember
From October 12th to 15th, 2023, we're taking a trip down memory lane, rekindling old flames, and lighting up new friendships. The schedule is packed with events that'll tickle your fancy, no matter what flavor of groove you're into.
Welcome Home Alumni Weekend Kickoff - Oct. 12, 2023, 6:30 PM - Center Stage Event Center
We're kicking things off with a bang at the Welcome Home Alumni Weekend Kickoff. This ain't just an event; it's a family reunion like no other. Join us at the Center Stage Event Center as we embrace familiar faces, swap stories, and set the stage for a weekend that's off the charts.
Yardboy Block Party - Oct. 13, 2023, 6:30 PM - Tougaloo College Owens Health and Wellness Center Parking Lot
It's time to get down at the Yardboy Block Party. We're talking dancing under the stars, feasting on mouthwatering delights, and grooving to those tunes that take you back to our college days.
Feel Good Friday - Oct. 13, 2023, Right after the block party - The Village Kitchen 219
After tearing up the dance floor, we're keeping the vibes rolling with Feel Good Friday. It's going down at The Village Kitchen 219, where good times, great company, and unforgettable moments are on the menu.
Tougaloo Alumni Tailgate - Oct. 14, 2023, 11:00 AM - Earl Sanders Field
Who doesn't love good tailgate? No football team? No problem! Join us for the Tougaloo Alumni Tailgate at Earl Sander Field. Dressed in Red and Blue, we'll jigg, stroll and bounce with your Tougaloo College DJs creating an electrifying atmosphere that only alumni can deliver.
Village Block Party - Right after the Tailgate - The Village Kitchen 219
The excitement keeps rolling into the evening with the Village Block Party. It's your chance to savor a fantastic meal, reconnect with friends, and share stories that have stood the test of time. The Village Kitchen 219 is the place to be for a night you'll always remember.
R&B Brunch - Oct. 15, 2023, 11:00 AM - The Village Kitchen 219
As the weekend winds down, we gather one last time for the R&B Brunch. It's a soulful and mouthwatering experience at The Village Kitchen 219, the perfect way to say goodbye to a weekend filled with memories.
Tougaloo College Alumni Weekend 2023 isn't just an event; it's a journey back to our roots, a celebration of friendships, and a rekindling of the spirit that makes our alma mater special. I can't wait to laugh and reminisce with you.
Whether you're fresh out of college or seasoned like a fine wine, this weekend is your homecoming, and you won't want to miss it. Mark your calendars, dust off those Red and Blue outfits, and let's create memories that'll have you smiling for years to come. Tougaloo College, here we come—stronger and prouder than ever!
Stay tuned for more updates, and let's make Tougaloo College Alumni Weekend 2023 an event for the books. We're ready to welcome you home in style. Go Bulldogs! Eagles Fly High!
---