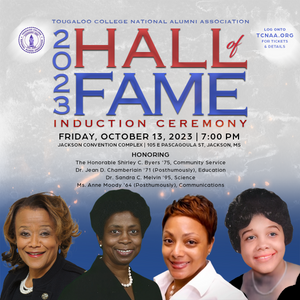 Celebrating Excellence: The 2023 TCNAA Hall of Fame Induction Ceremony
The hallowed grounds of Tougaloo College have witnessed the rise of numerous accomplished individuals who have left an indelible mark on their respective fields. These outstanding alumni have not only excelled in their professions but have also lent their unwavering support to their beloved alma mater. Each year, the Tougaloo College National Alumni Association (TCNAA) gathers to honor and acknowledge the remarkable achievements of these distinguished alumni at the Hall of Fame Induction Ceremony.
The Hall of Fame: Recognizing Excellence
The TCNAA Hall of Fame Induction Ceremony is a momentous occasion that pays tribute to supportive alumni who have not only distinguished themselves in their careers but have also made significant contributions to Tougaloo College. This recognition serves as a beacon, inspiring other alumni to actively engage with TCNAA and contribute to the ongoing success of Tougaloo College.
A Diverse Range of Excellence
One of the remarkable aspects of the TCNAA Hall of Fame is its recognition of excellence across a wide spectrum of categories. Each year, the Hall of Fame Committee carefully selects individuals who have demonstrated exceptional achievements in various fields. The 2023 TCNAA Hall of Fame Inductees represent excellence in:
Community Service: The Honorable Shirley C. Byers '75
Education: Dr. Jean D. Chamberlain '71 (Posthumously)
Science: Dr. Sandra C. Melvin '95
Communications: Ms. Anne Moody '64 (Posthumously)
These remarkable individuals have not only excelled in their respective fields but have also embodied the spirit of Tougaloo College through their unwavering support and dedication.
The Hall of Fame Induction Ceremony is a night of celebration, where the achievements of these exceptional individuals are spotlighted. It's a time when the Tougaloo community comes together to honor their own and to pledge their continued support for the institution they hold dear.
The Hall of Fame Banquet will be held on October 13, 2023, at 7:00 PM at the Jackson Convention Complex. This prestigious event promises to be an unforgettable evening of celebration and inspiration.
Join Us in Celebrating Excellence
Tickets and tables for the 2023 TCNAA Hall of Fame Induction Ceremony are available for purchase at TCNAA's official website. Join us in celebrating excellence, honoring our distinguished alumni, and supporting Tougaloo College's legacy of achievement. If you have any questions or need further information, please email info@tcnaa.org.
The TCNAA Hall of Fame Induction Ceremony is more than just an event; it's a testament to the enduring legacy of excellence that Tougaloo College represents. It's a reminder of the power of education and the impact individuals can have on their communities and the world.
As we approach the 2023 Hall of Fame Induction Ceremony, we eagerly anticipate the recognition of new inductees whose accomplishments will inspire generations of Bulldogs to come. They remind us that the pursuit of excellence is not just a goal but a way of life.
---