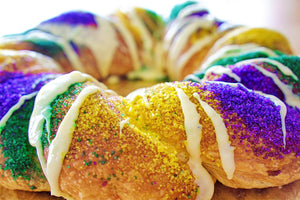 Best King Cake on The Coast
If you're from Mardi Gras territory, then you know what a king cake is. If you don't a have clue here's a brief introduction. The tradition of the King Cake began in the 1870s. A cornerstone of the Mardi Gras celebration, the oval cake is baked in honor of the three kings, hence the name. The shape of a King Cake symbolizes the circular journey of the Wise Men, down to Egypt and then back to Bethlehem. Each cake is decorated in the traditional Mardi Gras colors: purple to represent justice, green for faith and gold to represent power. A small baby, symbolizing the baby Jesus, is hidden in each cake.
Now that everyone knows what a king cake is, we can get down to business. Who's got the best king cake on the Mississippi Gulf Coast?
Here are the best King Cakes on the MS Coast, according to this list compiled by the Sun Herald!
Quality Bakery, downtown Gulfport
An overwhelming number of voters said the bakery's Bavarian-filled king cake was a must-try. Other popular flavors include pecan praline, blueberry cream cheese, strawberry cream cheese and traditional.
Le Bakery, east Biloxi
One voter said you have to try "all of them."Traditional and strawberry cream cheese received the most nominations. Other popular flavors include chocolate and strawberry.
Crazy B's Coffee & Confections, Pascagoula
The east Jackson County bakery is popular among Pascagoulans and known for its non-traditional king cake flavors.The most popular flavors include tiramisu and turtle.
Cheeky Monkey Cake Company, Gulfport
The most popular flavor, voters said, was strawberry cream cheese. Cheeky Monkey also makes specialty savory king cakes upon request, including a bacon king cake.
Paul's Pastry, Picayune
Many participants said driving to Picayune is worth the trek for Paul's king cake. The bakery also ships king cakes across the USA a large number of voters said their mixed berry flavor and "anything with cream cheese" was a must-try. Other popular flavors include traditional cinnamon and pecan praline.
Sweet Stuff, Biloxi
One voter said "all of them" at Sweet Stuff is a must-try. The most popular flavor among voters was Bavarian. Other popular flavors include blueberry and strawberry.
The Donut Shop, Kiln
It's located in a quaint shopping center in Hancock County, and locals say you can't beat the pecan praline. Other popular flavors include cinnamon cream cheese and strawberry cream cheese.
#kingcake #mardigras #msgulfcoast #mscoast #onecoast #Biloxi #Gulfport #OceanSprings#LongBeach #PassChristian #BayStLouis #msgulfcoastrestaurants #gulfcoastliving #gulfcoasttourism #visitms #visitmscoast #gulfcoastfoodies #eathecoast
---